Used Motorhome Sales and Brokerage Experts In Dorset
KPC Leisure Limited was established in 2013. Based in Wimborne Minster, Dorset, the company specialises in pre-owned, quality motorhomes and campervans.
Directors Kris Meehan and Paul Limb collectively have over 35 years experience in the industry, both worked for a national retailer before setting up KPC Leisure.
Kris and Paul pride themselves on offering great value, excellent customer service and an honest approach to leisure vehicle ownership. Their extensive experience and knowledge of motorhomes and campervans enables them to give detailed guidance, and match customers to those vehicles which most suit their needs.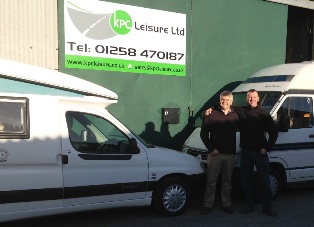 Feedback
We value our customer's feedback, and some of the wonderful comments people have left with us are shown below - thank-you!
"I have to say I looked at 3 vans at your place and all were in good condition. If anyone is reading this you would be better just coming down to Wimborne and speaking to these guys, they know their stuff and only take on decent vans. Don't waste gallons of fuel driving around the country." V.Czerny
"Trustworthy place to buy your dream motor home"
T.Whitham
"Delighted with the van, best I have had to drive ,she's a real corker"
G.Peerless
"Thank you to both of you for the whole experience of purchasing Olga (short for Old Girl) and for making sure the transaction was trouble free, we've only used her a couple of times but she's touched our hearts already"
M&D.Shulver
"Delighted with Bongo and great honest guy's to deal with!" A.Wilkie
"You will be pleased to hear that despite the appalling weather, the drive home in the Swift was a pleasure. It drives superbly with no rattles and frankly belies its age. Thank you for making the purchase a stress free extremely pleasant experience and I would have no reservations about recommending KPC Leisure to anyone looking to buy a motorhome. Your customer service, friendly demeanour and attention to detail in the handover was excellent and you deserve to be successful." K.Atkins
"I just wanted to send a quick message to let you know how pleased we are with the van. It is fantastic and I really can't fault the customer service we have received. Buying our van with KPC really was a pleasure!" M.Flinn
''Thank you both for your time yesterday to get me happily van savvy and driving confidently away in my little bolt hole on wheels, Many, many thanks for the hook up adapter and kettle.'' Jan
''She's absolutely AWESOME! I'm still in shock, she''ll get well loved. Thanks!!!'' Andy
"We purchased our first Motorhome (Autotrail Tracker) in December 2017. They were very thorough when explaining the operation of the van and nothing was too much trouble. We did have a problem within the Warranty period and this was soon sorted and we had no worries taking it to France for 3 weeks last year. Thanks very much Kris and Paul." Les & Margaret
"I bought my first motor home from KPC Leisure a few months ago, as with most 18 year + campers you expect a few teething problems, but I can honestly say that Kris and Paul exceeded my expectation in putting things right with out hesitation, These guys are two of the most honest genuine helpful people I've met whilst looking for a camper, thank you both so much." Susan
''Just wanted to give a thumbs up for Kris and Paul at KPC. I bought my Autosleeper Topaz from them this summer and they were an absolute pleasure to do business with. Moreover, they have been fantastic when I've had a couple of problems with my van. The first whilst under warranty - there was no quibbling, the repair was done and paid for immediately. My second problem occurred when out of warranty when, of course, there is no liability on them but they have been amazingly helpful. This is definitely the way to do business and, for me, they stand out amongst motorhome dealers as truly honest and service orientated'' Christine

Find more comments, photos and links on our Facebook Page.